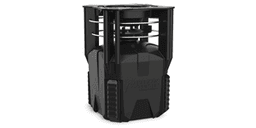 FEEDERS
Feeders for sale
No filter applied
Availability
Game feeders play an crucial role in the modern game management system, providing consistent and regulated nourishment to various wildlife. Among these, deer feeders are particularly significant. They make sure your deer herd gets the necessary nutrients they need, especially when the environment doesn't provide enough.
In addition, game feeders serve multiple purposes. They contribute to the health and well-being of deer populations. The also act as an attractant, luring game into more open areas. This is especially useful for hunters and wildlife enthusiasts observing or hunting in areas where game visibility is usually low.
Whether your primary goal is conservation, hunting, or observation, it's crucial to have a game feeder that you can count on. You need a strong and durable feeder that is easy for animals to reach and can withstand outdoor conditions.
Recognizing this need, DEGuns is proud to offer an extensive range of top-tier wildlife feeders for sale. Our selection of the best game feeders are affordable, high-quality, and designed to deliver outstanding performance in various conditions. For those truly invested in wildlife care and management, DEGuns has the perfect solution tailored to your needs.
Types of Game Feeders for Sale
We design our game feeders for a wide range of enthusiasts. The hobby farmer or the serious hunter can find the best wildlife feeder for their needs. We offer gravity feeders and game feeders driven by an electric motor.
You can use a variety of feed types with electric feeders depending on what your animals need. Some of our feeders use a galvanized steel pipe to provide food. This means that users who prefer feed mixes do not need to be concerned about rust.
Our feeders are durable with metal or polymer construction, and they come in various sizes. Schedule out your feeds using the Easy Set programmable timer and adjust the power settings as needed.